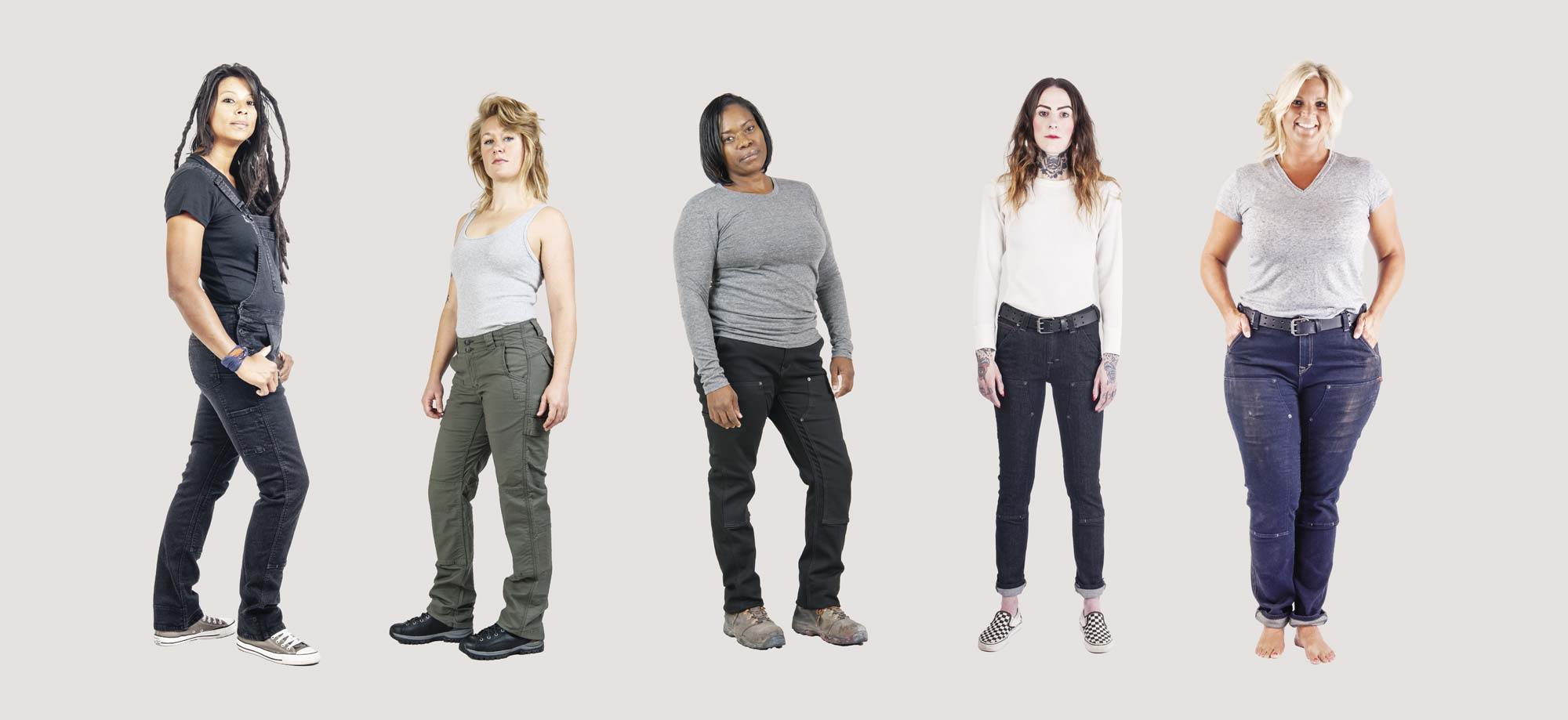 Sizing in women's work apparel is very challenging, we truly get it.
The information below provides guidance so that you can find the perfect Dovetail Workwear pant for you!
A -
B - 
C - 
D - 
E - 
Women's sizing varies greatly depending on shape and fit preferences. If you need more guidance email
dovetailworkwear
@insport.ca
. 
    When you try on your pants in any style for the first time, there should be minimal gaping in the back of the waistband nor extra fabric around/below the crotch. They should fit like they just came out of a hot dryer--very fitted in the waist and hips. When sized right, the fabric will conform to your body over time, but not bag out like some fashion stretch jeans do.
    Because our denim and other fabrics are premium, they do not lose shape over time. Our stretch fabrics mold to the body due to very high shape memory (proven through lab testing).


How do other Dovetail products fit?

Knit Tops, Hoodies, T-shirts—True to size. All of our shirt patterns are intentionally cut and sized with the feminine form in mind. We ensure that your mid-section is well covered even while bending and moving.
Beanie—a moderate fit accommodating most head sizes, with intentionally unisex sizing and styling. (We just have to add that the feel of the Merino wool is DREAMY. And no itchiness!)
Double-pronged Belts—these unisex belts come in 2 lengths: XS/S and M/L. The XS/S measures 37" from leather end to leather end, excluding the buckle, and fits sizes 000~8. The M/L measures 43", and fits sizes 8~18.
Gloves—Designed with a woman's hand in mind, big or small. Comes in sizes XS-L. With 4-way stretch.